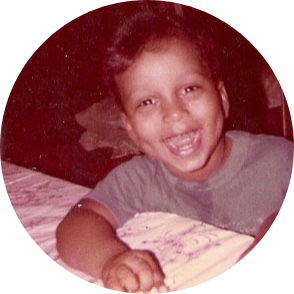 I recall it was on or about my brother Leslie's 1st birthday, I was at home with baby Leslie, our father and someone else.
I don't recall if our mother was present on this occasion.
Baby Leslie was hungry and started crying for food. Our father went into the kitchen to heat up some baby formula for him.
When he had finished heating it up, he did NOT wait for it to cool. He put the HOT baby formula directly into baby Leslie's baby bottle.
He then came back into our room and gave the baby bottle with the piping HOT baby formula to the hungry baby Leslie!
Leslie was so hungry that he immediately started to suck on the bottle.
Seconds later, baby Leslie reacted to the scalding baby formula by dopping his baby bottle, coughing and pucking up the HOT formula, issuing a series of choking coughs, and finally a waling cry!
His father's initial reaction to baby Leslie's distress was to yell at the little child, 'You don't like it? I'll give you something to like!'
He then hit the child with the palm of his hand, slapping baby Leslie repeatedly with so much force that baby Leslie's little body was propelled from one corner of the bed to the other with every blow!
At the end of the ordeal, baby Leslie did NOT appear to be conscious! His little body appeared to be in shock, it shook and trembled uncontrollably for about a minute.
When we finally got baby Leslie conscious again, his breathing was NOT normal. He was wheezing and appeared to have trouble breathing.
I'll never forget the look on my baby brother's face. It was terror, confusing, sadness, etc, all in a single expression.
This was little baby Leslie's first birthday present!